"It is not easy to stay at the top," Fernandinho mused after Manchester City cut the gap to Premier League leaders Liverpool last Thursday week, "The pressure is so high."
The Brazilian midfielder may well have been mischievously engaging in some mind games but he had a point.
Even Liverpool captain Jordan Henderson admitted after his team's first defeat of the season, at the Etihad, "It's all about the reaction now."
The subsequent FA Cup loss to Wolves was unsurprisingly dismissed as a blessing in disguise, with elimination giving one less tournament to worry about. 
However, there was no way dropping points at Brighton on Saturday could have been glossed over. 
It felt like a must-win game; an unmissable opportunity to silence those gleefully claiming that the City loss would precipitate the collapse of Liverpool's title challenge.
Not to mention put seven points between themselves and City again, ahead of the champions' meeting with Wolves on Monday night.
In the end, Liverpool got the job done, but only just, with Mohamed Salah's spot-kick the only difference between the two sides at the Amex.
The identity of the match-winner was obviously no surprise – only Lionel Messi (16) has scored more goals than the Egyptian (14) in any of Europe's 'Big Five' leagues this season.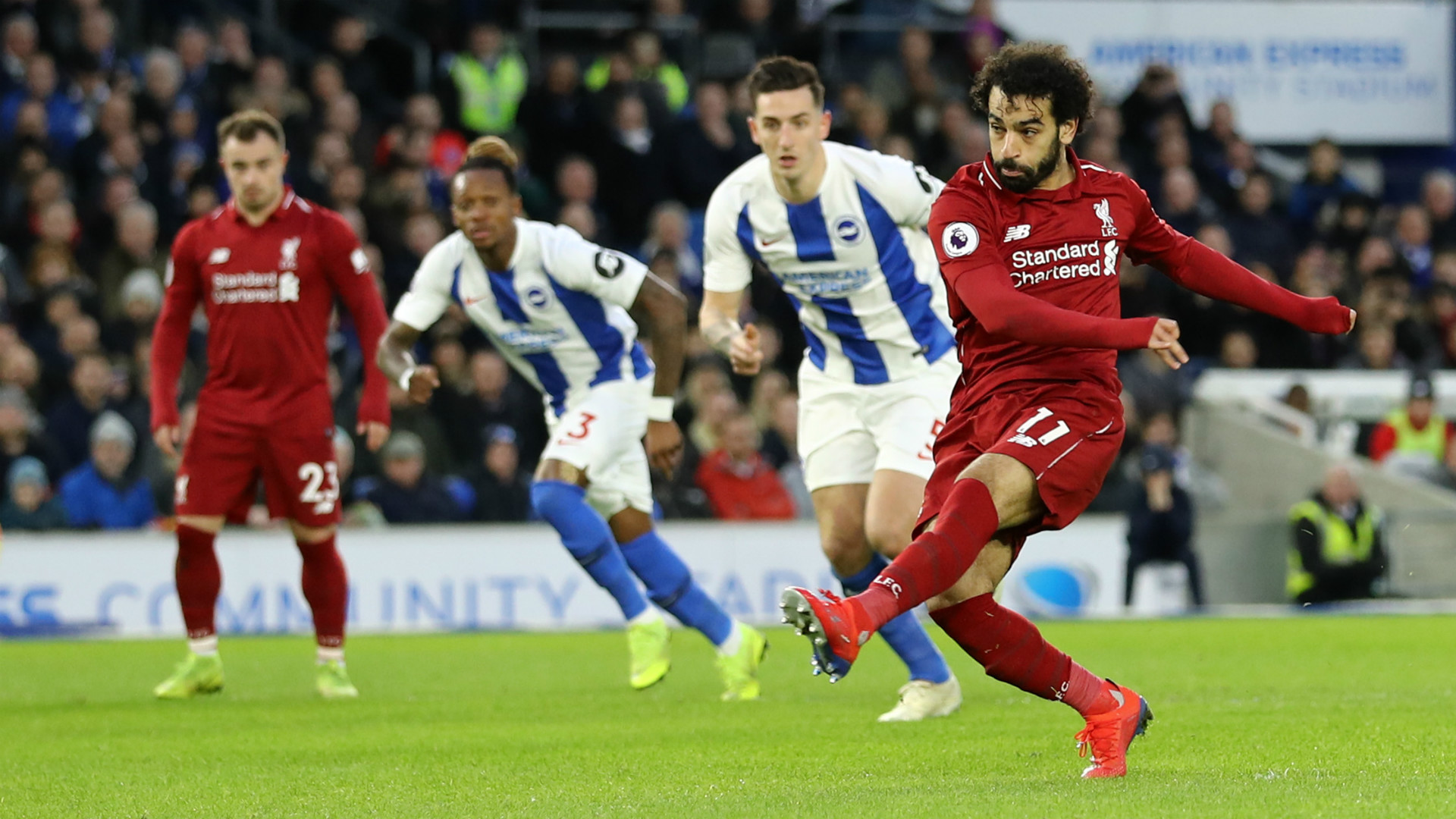 However, Salah had been almost anonymous during a strangely subdued first-half performance by Liverpool.
Perhaps it was the grass, or even the wind – regardless, Liverpool offered little going forward in the opening 45 minutes. 
After the City setback, one would have envisaged a spirited showing from Liverpool in their next Premier League outing but they were limp and lethargic, with only left-back Andy Robertson offering any dynamism.
Consequently, the lacklustre visitors failed to register a single shot on target, and just four in total, with a header from Xherdan Shaqiri – of all players – the closest they came to scoring.
The midfield's worrying lack of invention – a worrying recurring theme at this stage – meant little quality ball to the forwards.
Indeed, Salah didn't get a single sight of goal, touching the ball just 13 times – only twice more than goalkeeper Alisson. 
However, Liverpool, no doubt stung by some harsh words from Jurgen Klopp, were far more vivacious after the restart and, in the 50th minute, got Salah into the kind of space he loves to attack, resulting in his now almost customary penalty.
Indeed, the Reds have now been awarded four penalties since Christmas Day – no other Premier League side has received more than one – and Salah is responsible for three of them.
Still, while there was some controversy surrounding the spot-kicks he earned against Newcastle and Arsenal, there was no doubt about this one, with Pascal Gross guilty of stupidly hauling the winger to the ground.
Salah's conversion was as emphatic as it was crucial. 
Not only did it decide the game in Liverpool's favour, it underlined that the Reds have retained the very useful knack of winning ugly.
Which is just as well really. As Fernandinho pointed out, it's not easy to stay at the top when everyone is out to get you.
But then again, this win at Brighton serves as a most timely reminder for City that catching this resilient Liverpool side won't be easy either.
Not when they have a proven match-winner like Mohamed Salah still within their ranks.
Let's block ads!