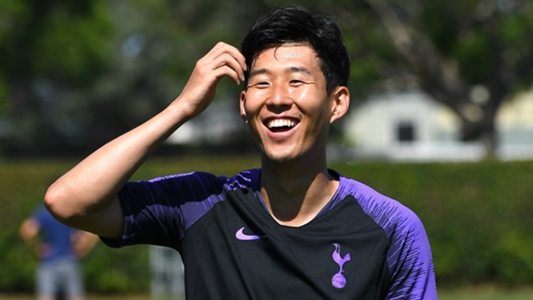 Son Heung-min is amused by his newfound cult hero status in Mexico but admitted he also is a bit frustrated El Tri wasn't able to help Korea out in the World Cup.
A month ago, on the final day of play in World Cup Group F, Son and his Korea teammates engineered a stunning upset of reigning world champion Germany. Son scored a stoppage-time goal to seal a 2-0 victory over the Germans that meant no matter what happened in Mexico's contest with Sweden, Mexico would go through with six points.
That was good news for Mexico, which lost 3-0 to Sweden – triggering celebrations with Mexican fans thanking Koreans. A throng of fans in Mexico City went to the South Korean embassy and coaxed the ambassador to come join the party where they were signing "Korea, hermano! Ya eres mexicano!" or "Korea, brother. You're now Mexican!" 
While he's enjoyed the rousing reception from Mexico fans, Son said he still wishes Mexico could've done its part. Had El Tri topped Sweden, Korea would've had a chance to advance to the round of 16 instead of Sweden with goal difference the tiebreaker.
"I'm thankful for that and grateful for that," Son said of the reception. "I was a bit upset, of course. I thought Mexico was gonna win against Sweden and I was supportive of Mexico. Mexico played very well at the World Cup. It was unlucky they got out at the round of 16, but I'm really thankful for the Mexico fans."
The well-wishes have continued even with Son returning to his club, though he will leave Spurs just after the start of the season to take part in the Asian Games. As Son has continued to be cheered by Mexican fans like the ones who watched Tottenham's 4-1 win over Roma in San Diego, California, he's considered that there could be a strong bond between Mexican and Korean fans for years to come.
"What should I say?" he said with a laugh when asked if he wanted to send a message to Mexican fans. "Thank you for loving me, supporting me. Keep going and maybe we can be good friends – Mexico and Korea."
Tottenham's International Champions Cup slate continues Saturday with a match against Barcelona in the Rose Bowl before the club closes out its tour in Minnesota with a contest against AC Milan.
Let's block ads! (Why?)