Daniele Rugani's first season back at Juventus ended in Scudetto success. 
"I hope to stay for many years," he enthused in May 2016, "and I'll do everything to deserve staying for as long as possible, if I'm good enough…"
Nobody else at Juve has ever had any doubts over whether Rugani was good enough to become a stalwart of the Bianconeri backline; the question was whether he was tough enough.
When former Primavera starlet Rugani returned to Turin in 2015, he did so on the back of a successful two-year loan spell at Empoli.
Under the tutelage of Maurizio Sarri, he had helped the Tuscans secure a return to the Italian top flight and then enjoyed an immaculate debut season in Serie A, playing every minute of every match without collecting a single booking.
Inevitably, there were comparisons with the legendary Gaetano Scirea, who, during his time at Juventus, once went eight consecutive seasons without being cautioned once.
Such talk was, of course, premature but the then 20-year-old was undeniably a player of enormous potential: He was elegant, intelligent and composed.
The lack of bookings was unsurprisingly portrayed as a positive, evidence of his excellent reading of the game, evoking memories of Paolo Maldini's wonderful line: "If I have to make a tackle, I've already made a mistake."
Three years on, though, Rugani's reluctance to go to ground is interpreted by some as a negative, proof that he lacks the requisite 'nastiness' to break into the Juventus defence.
When Rugani rejoined Juve, coach Massimiliano Allegri demanded more aggression from the centre-half. Come the end of last season, he was still waiting for it to show itself.
That is not to say that Rugani has not developed in Turin, or performed well when given a chance.
Furthermore, breaking up the Bianconeri's legendary 'BBC' backline of Leonardo Bonucci, Andrea Barzagli and Giorgio Chiellini was never going to be easy for one so young, so even this summer there was still a perception that Rugani's time would come.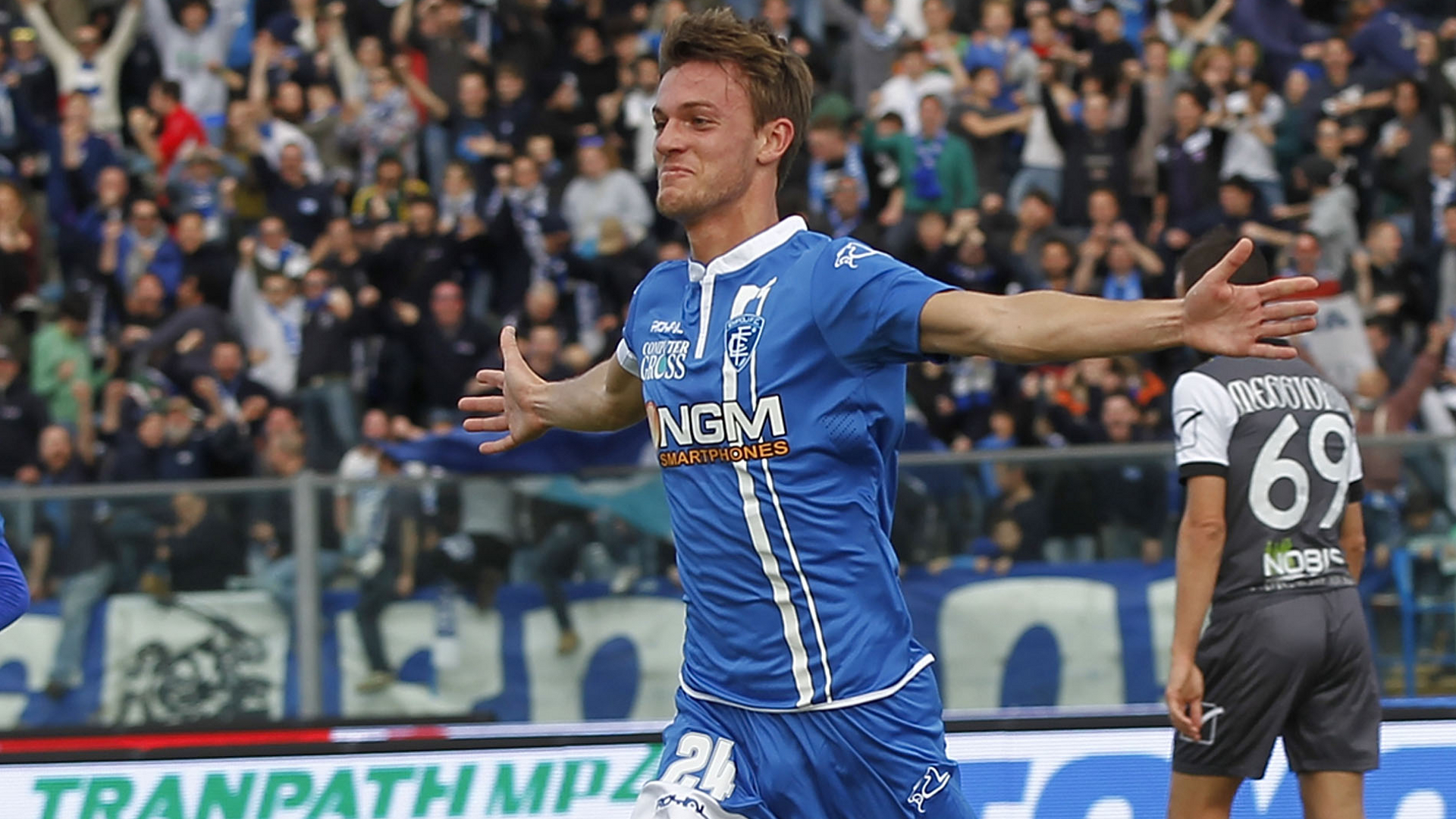 However, it is telling that when his big break came last summer, following Bonucci's surprise departure to AC Milan, the Empoli youth team product failed to fill the void. 
He played his part in Juve's seventh successive Scudetto but there were still only 22 appearances, while it was telling that he featured just twice in the Champions League. 
Surprisingly, it was Medhi Benatia who ended up benefitting from Bonucci's sale – not his more obvious heir, Rugani. 
The 23-year-old rarely put a foot wrong – unlike the far more error-prone Benatia – but the perception was that the slender Rugani could not be trusted in the very biggest games; that he was lacking something, not just physically but mentally. 
Rugani is undeniably a nice guy. His girlfriend, Michela Persico, says "he debunks the typical stereotype of a footballer; he's the complete opposite to that." And nobody would disagree. He is a popular character, both in the Juve dressing room and within the media.
There is no shortage of drive, though. Rugani is a perfectionist; as diligent and disciplined as they come.
He does not eat junk food, he gave up Coca-Cola years ago, while he spends every Sunday night making copies of Juve's games and putting them on a USB key so that he can watch them on his laptop.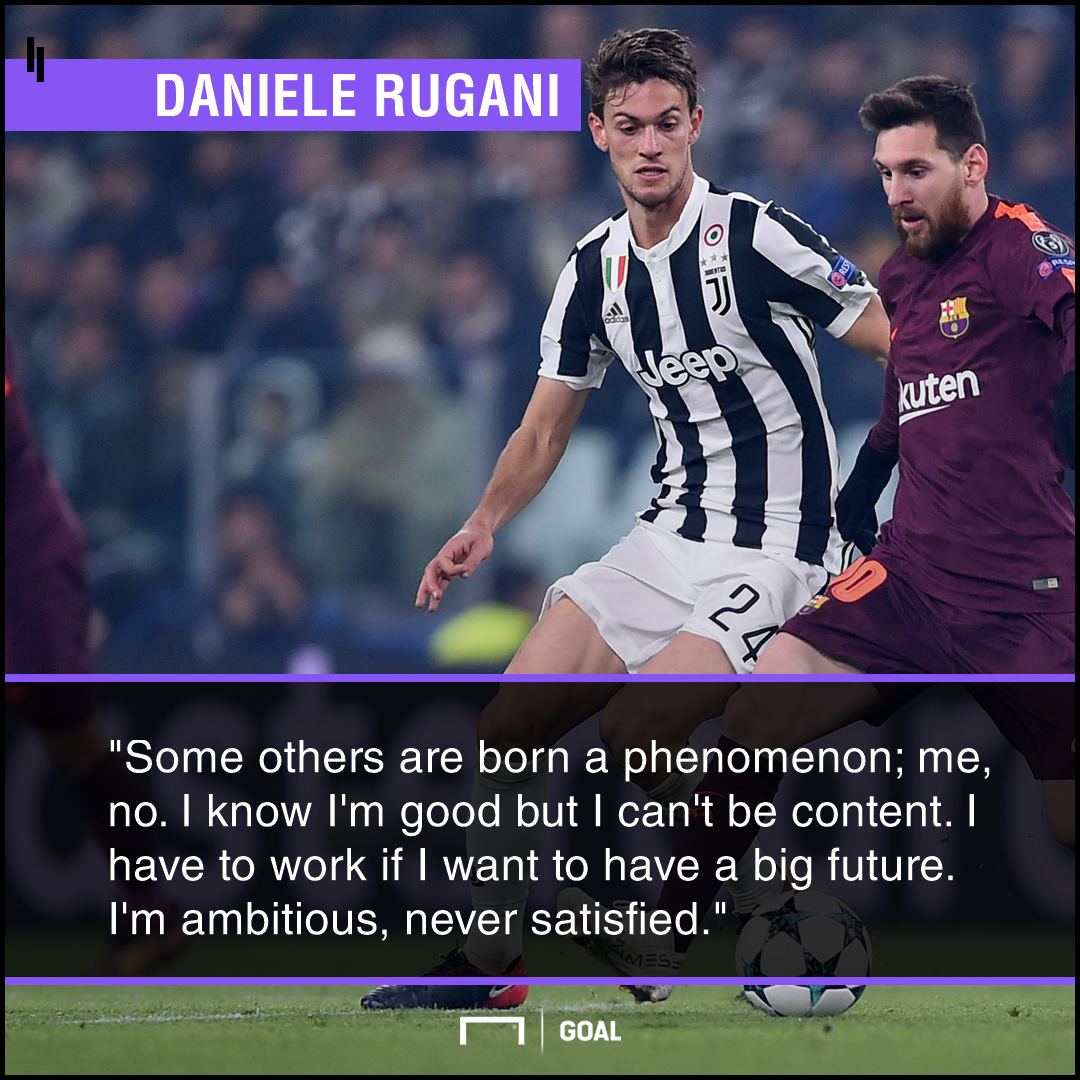 "It's so that I can understand what I did and where I went wrong," he told Tuttosport. "It's the little details that make the difference.
"Some others are born a phenomenon; me, no. I know I'm good but I can't be content. I have to work if I want to have a big future. I'm ambitious, never satisfied."
Which is precisely why he will welcome the move to Chelsea, which represents a chance to grow, to test himself in another league. More importantly, it means a reunion with the man who made him the player he is today.
Allegri never appeared to have 100 per cent confidence in Rugani; Sarri has never doubted his former protege's ability to become one of the best defenders in the world.
He even tried to sign him during his time in charge of Napoli but, at the stage, Juve refused to even entertain the idea of letting Rugani go. 
Things have changed, though. Cristiano Ronaldo's signing has created a need to balance the books. Rugani is one of Juve's most valuable assets at £45 million (€50m) but no longer considered indispensable.
The transfer, thus, appears to suit all parties: Juventus will receive a hefty fee; Chelsea get a young, classy defender around whom they can rebuild their defence; and Rugani gets to work with Sarri again.
"He is a person whom I respect a lot, who gave me a lot and who taught me many things," he recently admitted.
The challenge now, though, will be to repay his former mentor's faith in him. We know he is good enough to excel in England but is he tough enough?
We're about to find out…
Let's block ads! (Why?)