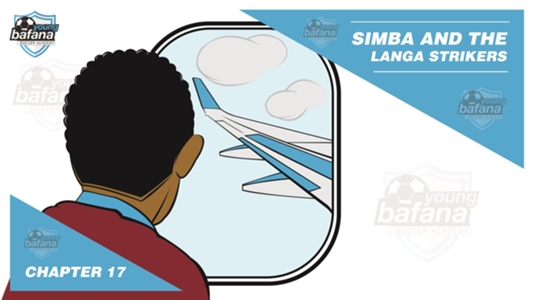 We are Young Bafana
Chapter 17
Simba and the Langa Strikers
Simba stared out the window as the plane touched down in Johannesburg. This had been his first flight in an airplane; in fact, it was the first time he had been more than 50km from his hometown of Lwandle. The butterflies in his stomach fluttered with anticipation and excitement. Simba was on his way to his two week trial for the diski team of the Langa Strikers.
Since first hearing that he had obtained the opportunity to trial for the team, Simba had discovered how much went into his making his way to Pretoria. As he found himself in the middle of his matric year, he had to get permission to miss two weeks of important schooling. Promising to continue his studying in the evening, his school had allowed him to take the time off. Some of his teachers had even offered to be available in the evenings should he need any tutoring.
 

View this post on Instagram

 

+++WE FOUND A HOME++++ Young Bafana goes Radloff and opens its doors to the entire Helderberg community. Probably the best news of the year! We are euphoric about the confirmation of Radloff Park as our new home ground:) The goal was to obtain this objective by 2022, yet the good news has come earlier than anticipated. Years of having to use various venues, driving hundreds of kilometers weekly, high transport costs and late night returns for the kids is now a thing of the past. The first official practice session will be announced soon. Due to our deep roots and outstanding relationship in Lwandle, participation in the Helderberg League will be continue as per usual. Resulting in all league matches to be played on the wonderful astro field in Lwandle. We are overwhelmed and look forward to having you become part of the YB Family. Thanks to everyone! #WeAreYoungBafana #Changinglives #NewHome #AllWelcome #Exciting #sport #soccer #community #newsflash #HelderbergHereWeCome #euphoric #ecstatic #happy #goodnews #wow #dreamcometrue #southafrica
The next hurdle was to be the finances needed to make the trip. With a relatively short time frame in which to fundraise, Young Bafana Soccer Academy had pulled out all the stops in order to cover the costs of Simba's trip. When his teammates arrived at the airport to see him off, Thabo had proudly handed over an envelope. The boys had gathered together what little money they could spare to help him as he took this first step in realizing his goal of becoming a professional soccer player.
The next two weeks passed by in a blur. Before he knew it, Simba's two weeks were up and all that remained were the memories and lessons he had learned. Being one of the youngest players trialing, it was obvious that he did not have the physique of some of the other men. Ultimately he would have to become physically stronger in order to deal with the more physical play which would occur in the professional sphere.
Technically, Simba shone above the others. His style of soccer made him a favourite amongst the scouts and coaches. He was able to take direction and was an easily coachable player. Unfortunately, his youth and inexperience counted against him. Not getting an offer to become part of the team was hard for Simba, however, he knew he must take lessons from the experience to use in his pursuit of his future career.
 

View this post on Instagram

 

Share love in your own way. Some of us may pick up a piece of trash on the beach, others assist the elderly whilst we do everything we can to create a better future for the children of South Africa. Education and Soccer, that's how we do it. #WeAreYoungBafana #ChangingLives #FromLwandleForLwandle #love #children #founder #inspire #community #development #happy #outdoors #future #sport #educational #together #southafrica
On his flight home to Cape Town, Simba reflected on the last two weeks. He knew that he would have to spend some time working on his shortcomings. It would be foolish not to use what had been highlighted to fuel his attempts at becoming the best soccer player he could be. He had a great talent and the coaches had all reassured him that if he continued to train hard and work on his game, he would certainly get another chance at a diski team.
Arriving home, Simba felt like a champion, even though he had not made the cut. He was well on his way to achieving his goal and every experience on that path led him closer and closer to a life he had only ever dreamt about
We are Young Bafana is a collaborative project between Goal.com and the Young Bafana Soccer Academy. This is a fictional story loosely based on real-life events and experiences of the community of Lwandle, a township in the Somerset West area in the Western Cape.  
Let's block ads!