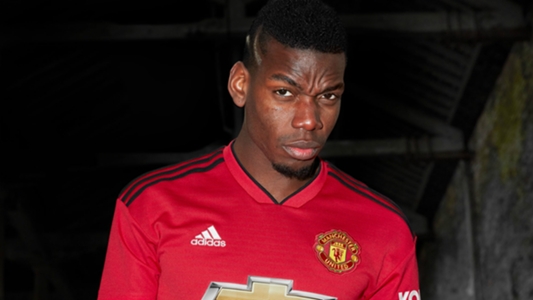 Manchester United have launched their new home kit for the 2018-19 season.
United's bold new shirt features black stripes along the midriff and on the shoulders in a commemoration of the founding of the club.
The stripes are described as a "train track graphic" by the club's official press release, which is a reference to United's original name; Newton Heath (Lancashire and Yorkshire Railway) Cricket and Football Club.
The club were founded in 1878, 140 years ago, and started off by playing against other rail companies.
They changed their name to the famous United we know now in 1910, eight years after entering the First Division.
The red and black shirt will be accompanied by black shorts and red and black socks.
"There are many great moments in this club's fantastic history, and none more important than the year the club was founded, back in 1878," United's group managing director, Richard Arnold, told the club's official website.
"This shirt from Adidas pays homage to the year we were founded, and marks 140 years of footballing success.
"The train track graphic on the shirt is a reference to the origins of the club, when the team was known as Newton Heath (Lancashire and Yorkshire Railway) Cricket and Football Club.
"Again, Adidas has shown how innovative they are with their designs – taking a moment from the past and reshaping it for supporters into a jersey which I am sure the fans will love."
Inspired by the Railway Men of Newton Heath.
140 years on, @ManUtd introduce the new 2018/19 Home kit, exclusively available through adidas and official club stores: https://t.co/mUiIN7IIiX#HereToCreate pic.twitter.com/Nl1zbJyXxC
— adidas Football (@adidasfootball) July 17, 2018
The new jersey also features the club's first shirt sleeve sponsorship after United signed a multi-million pound deal with US brand Kohler.
The Premier League changed its rules at the beginning of the 2017-18 season to allow clubs to adorn sponsors' logos on their sleeves, but United were one of a number of outfits not to take up the opportunity during the campaign.
But, last week, they announced that they have made an agreement with Kohler, a kitchen and bathroom specialists, with the partnership meaning the company's name will be displayed on the strips of both the men's and brand-new women's teams.
United will wear the kit for the first time during their pre-season tour of the United States.
Adult replica shirts cost £64.95, while a children's shirt can be bought for £49.95. The long sleeve version is priced at £74.95. Authentic shirts cost £109.95.
Let's block ads! (Why?)