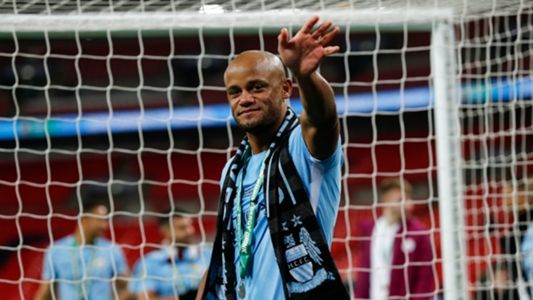 Manchester City captain Vincent Kompany is not thinking of leaving the Premier League champions, insisting that even at 32 years old, he retains the ability to keep playing at the highest level.
The Belgium international centre-back's career has been dogged by injury problems in recent seasons, but he has shrugged those off and claims that he is still improving all the time.
With just a year left to run on his contract, he is confident of extending his association with the club, which began in 2008.
"I think what people have never really understood with me is that aside from having had some injuries I'm actually really lucky to be a really good athlete naturally so I still feel mobile, I still feel strong, that I'm improving and I'm learning so much more about the game," he told the club's website.
"I'm enjoying the game more than I've probably ever enjoyed the game. Probably my first year at City and this last year now have been the best in my career so you want to make it last as long as you can, for sure."
Kompany, who was previously with Anderlecht and Hamburg, feels honoured to have made a successful career at the Etihad Stadium, where he has tasted Premier League success on three occasions.
"Every club you sign for they give you the same pitch: 'We've got a big project, big ambitions, we want to achieve this and that, we want to kick on,' and I just happen to be lucky that City was the one club that didn't lie about it," he said.
"When City came calling I researched the club, but when I first came through the door it was weird, it was a big club but at the same time a small club.
"A big club because of the history, the fanbase, the stadium, and small because of the state of the facilities where we were training, the culture a little bit towards winning, and the lack of pressure there was."
After a record-breaking haul of 100 points in the Premier League last season, there is little doubt that Pep Guardiola's men are the team to beat this time around, and they have already won their opening two fixtures of the campaign.
Next up for the defending champions is a trip to Wolves on Saturday, before a match against Newcastle rounds off their schedule before the September international break.
Let's block ads!