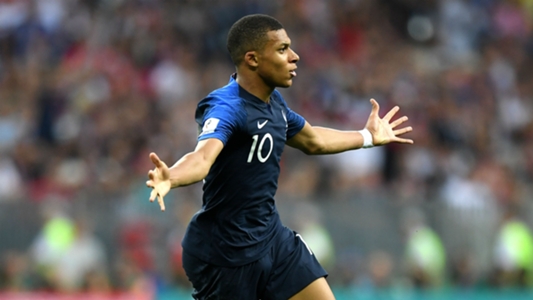 Didier Deschamps backed Kylian Mbappe to trump the achievements of his own generation by winning the World Cup for a second time.
Mbappe scored in France's 4-2 victory over Croatia in Moscow to become the second youngest player after Pele to do so in a World Cup final and Deschamps said he hopes there is more to come from the 19-year-old.
Drawing parallels with strikers from the team he captained to World Cup glory in 1998, Deschamps pointed out that the likes of David Trezeguet and Thierry Henry never managed to repeat the feat despite being only 20 when they lifted the trophy.
"Mbappe is only 19 and I do hope he is going to be world champion again," Deschamps said at his post-match media conference.
"He's done so much already.
"Twenty years ago, Trezeguet and Henry didn't become world champions again."
Deschamps was asked whether Mbappe's team-mate Antoine Griezmann, who scored a penalty in the final to cap an outstanding tournament, was the defining player in the current Les Bleus line-up.
He praised the 27-year-old but insisted the bond between players like Griezmann, Mbappe and Paul Pogba was at the heart of France's triumph.
MY LOVE pic.twitter.com/Ut72cZTLWU
— Kylian Mbappé (@KMbappe) July 15, 2018
The coach added: "Antoine has great qualities and is extremely humble. He lives thanks to the collective – the collective is crucial .
"There are players and individuals that make a difference – Kylian, Paul, Antoine – but the way this team was built was for the wellness we felt together.
"They have done everything together. Sometimes there are conflicts, we need to listen to them all collectively and individually. We then try to realise everything on the pitch and they fought for it on the pitch today."
Griezmann shared Deschamps' view and described his team-mates as "extraordinary".
CHAMPIONS DU MONDE. Vive la France pic.twitter.com/YI3bGeHr5e
— Antoine Griezmann (@AntoGriezmann) July 15, 2018
"The collective is most important – we have seen that at the World Cup," the Atletico Madrid forward told reporters.
"As soon as you are strong and united as a team it will work. I have extraordinary team-mates.
"Our children will be very proud to have our names. We have to enjoy it now. We are trying to give a good image to France of the players.
"I hope many young people will have watched the match and want to be like us."
Let's block ads! (Why?)