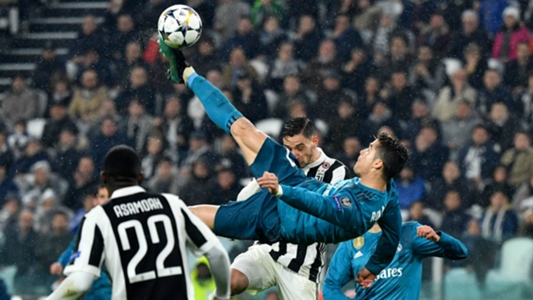 Juventus sporting director Fabio Paratici said his club got the idea to sign Cristiano Ronaldo after his stunning bicycle kick against them in April. 
The then-Real Madrid star lit up the Champions League quarter-final first leg in Turin with two goals, including a sensational overhead kick in the second half. 
Ronaldo's strike was so stunning that it even caused fans at the Allianz Stadium to stand up and applaud the visiting player's effort. 
In addition, Paratici has revealed it was the moment that set the move in motion.
"The crazy idea started after the crazy goal he scored against us," Paratici told Sky Italia.
"(Ronaldo's agent) Jorge Mendes told us that Cristiano was stunned by the attention he received, he said that one day he would like to come to Juventus."
That vision became a reality earlier this month, when Ronaldo signed for Juve in a deal worth €100 million (£88m/$117m).
Ronaldo was officially unveiled on Monday, when Paratici revealed more details of the transfer.
"I asked Mendes about Cristiano when we closed the deal for [Joao] Cancelo," Paratici said of a transfer completed at the end of June. 
"[Mendes] explained the situation to me," Paratici continued. "I talked to our president, Andrea Agnelli. In the first place, the figures were the most difficult thing.
"Agnelli took a few hours, he told me to go ahead and see if there was really an opportunity.
"Cristiano is the strongest player in the world and the negotiations were done between two big clubs like Juventus and Real Madrid.
"It's easier to do business and make transfers with a great player like him and a great agent like Mendes."
Let's block ads! (Why?)